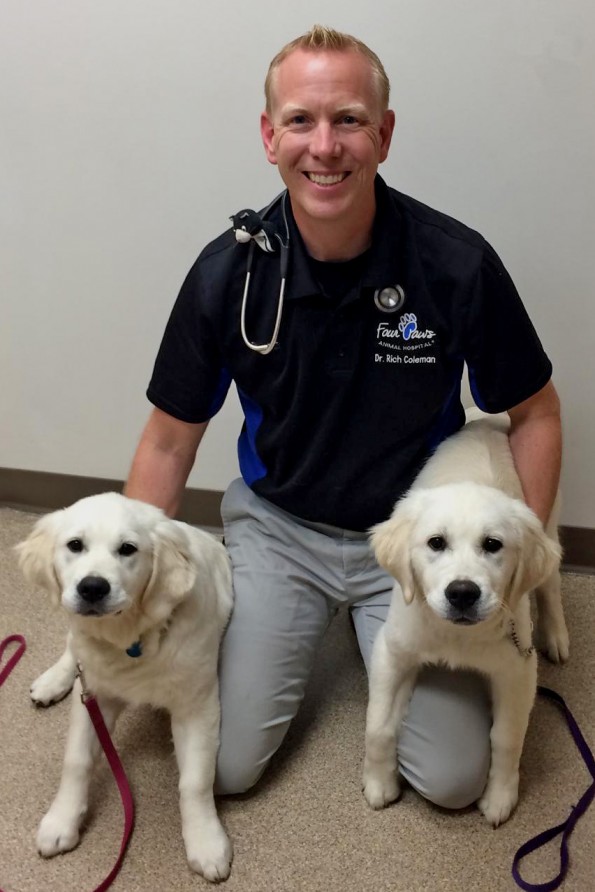 Dr. Rich Coleman grew up in Fairfield, Ohio and began his journey into veterinary medicine as a kennel attendant at the age of 15. He completed his undergraduate studies at the University of Cincinnati before graduating from The Ohio State University College of Veterinary Medicine in 2002. Dr. Rich took over Plum Veterinary Clinic in December 2006, changed the name to Four Paws Animal Hospital in 2007, built a new facility in 2012 and began a remodel in March 2019 to allow for more growth and opportunities for our community.
Dr. Rich has been recognized and received awards from the Warren County Drug Task Force K-9 Unit for his work with their canine officers. His contributions include raising money for bullet proof vests for the canine officers and free annual check-ups and vaccinations for these valuable members of the Warren County Sheriff's Department. Dr. Rich and the staff at Four Paws Animal Hospital currently care for over 20 members of the active and retired canine officer force throughout Warren County and surrounding areas.
Dr. Rich is very proud of his community and shows his support in as many ways as he can. He sponsors various sport programs, collects clothing items for local shelters, and has provided Thanksgiving Dinners for over 100 Lebanon residents, participates in Christmas Giving Trees, provides his services to Warren County Career Center Veterinary Science Program, and participates in reduced fee programs through Warren County Humane Association and so much more. He truly believes that his community gives back to him and this is just a few ways that he can give to the same community that supports him.
Dr. Rich is married to Jen, a school teacher at Lebanon City Schools. In their free time, Rich and Jen enjoy traveling, scuba diving, camping and riding their jet skis. They have two daughters, Gabi and Juli that participate in rock climbing, Lacrosse, Volleyball and Cross Country Running. The Coleman family have two cats, Miss Sally and Dory and two black labs, Scuba and Rosie.