Special Cases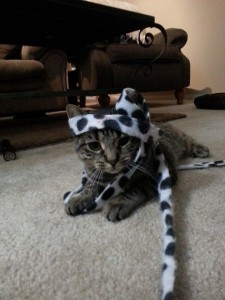 I-Lean
This is Little Baby I-Lean. She was a stray kitten who was hit by a car, which broke her leg and fractured her pelvis. Her injuries required us to amputate her leg. She has made an exceptional recovery and is a great cat! Little Baby now lives with Tyler and Stephanie, and her two kitty friends Petey and Dexter.
Weldon
Kitten Stuck In a Tire! Thanks Warren Welding!
This little guy came in today with his head completely stuck in a tire rim. Dr. Rich and the staff tried everything they could think of to get him out, with no success. The kitten took a trip down the street to Kirby's Auto & Truck Repair/ Warren Welding to see if they could help him. While Dr. Rich made sure this little guy was stable, the guys there were able to cut through the rim and finally break the rim enough to get him out!